EZ URL Cloaker Script
URL Cloakers
Price: $ 89.00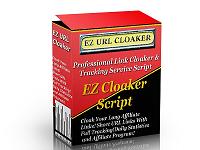 With the EZ URL Cloaker Script, you can host your own URL Cloaking Service with a built in affiliate system while earning a nice income by selling advertising and pro memberships. (Hosting Required).

Below are some of the Awesome Features of this script.


Payment Processors:
Paypal - Alertpay - Egold


Admin Area Features:
--Email all members or choose any member to email to.
--View/Edit all members details.
--Delete members.
--Edit downline builder and set your own categories etc.
--Admin decides how long members stats are available.
--Admin can choose to have a logo or just plain text show in the top frame.
--Choose between free and pro membership levels or both.
--View detailed stats for all members etc.
--Set pricing for top and bottom banner ads.
--Set commission levels for both free and pro members.
--Plus More!




Members Area Features:
--Send html email to your downline referrals.
--Cloak long affiliate url's.
--Earn commissions from paid upgraded referrals.
--Downline builder.
Plus much, much more!

Server Requirements:
1.) Unix/Linux Server
2.) MySQL (version 3.23 or higher)
3.) PHP (version 4 or higher)
4.) Crontab


Terms and Conditions:
Script comes with one (1) domain name license.
Additional domain name licenses can be purchased for
an additional fee of $50.00.
You cannot sell/lease the script in any way.
All sales are final with NO REFUNDS!
We do offer free limited support.
Installation is available for $20 per install.
We also offer webhosting for additional fees if needed.

NOTE! You MUST provide the domain name your loading
the script on when ordering.
Price: $125.00 $89.00

Click Here For More Info And Demo.